ABOUT US
---
Our Mission: "Shared Earth sells Fair Trade, recycled, eco-friendly and ethical products. Its mission is to tackle the climate crisis and create a fairer, more sustainable world."
Shared Earth was established in 1986 by Jeremy Piercy as a Fair Trade business which would create jobs in developing countries, encouraging sustainability, recycling and other eco initiatives in the process.

We sell wholesale gifts to gift shops, museums, tourist attractions, garden centres, etc. Please contact us if you are interested in stocking our products.
We exhibit our goods at the following Trade Shows:
Spring Fair, NEC, Birmingham each February
Autumn Fair, NEC, Birmingham each September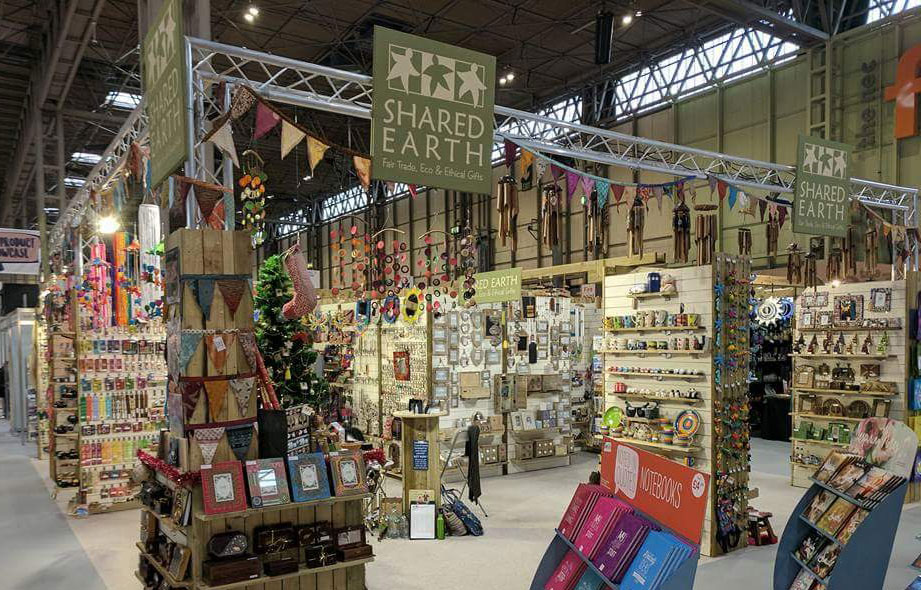 Shared Earth UK is a Guaranteed Fair Trade member of the World Fair Trade Organization (WFTO). We buy from approximately 40 suppliers in countries across the world. We work with our suppliers to design high quality products at a fair price.
Shared Earth consists of 3 companies: Shared Earth UK (which imports and wholesales our products), Shared Earth York and Shared Earth Liverpool (our two shops). As a member of WFTO (World Fair Trade Organisation) Shared Earth UK's performance is monitored regularly against the Ten Principles set by WFTO for Fair Trade organisations.
We buy as many products as possible from sustainable materials. A large number of products are made from recycled materials.
The story of Shared Earth is told in Jeremy Piercy's book 'Coffins Cats and Fair Trade Sex Toys', which describes how he came to enter Fair Trade in the first place, how the movement grew, episodes (some very amusing) with producers abroad, and predictions for the future.
---
SHARED EARTH UK LTD (Company number 07301731)

1 Minster Gates, York, North Yorkshire, YO1 7HL, UK
Tel: +44(0)1904 670321
Fax: +44(0)1904 623770
To register as a wholesale customer or for more information, please complete and submit our contact form.