Wholesale Fair Trade, Eco, Recycled & Ethical Gifts
Fashion, Home & Garden, Cards & Stationery, Fragrance, Lifestyle
Shared Earth is a leading wholesaler of ethical products. We carry the widest selection of sustainable and recycled products in the UK, sourced from countries all around the globe. Our performance is regularly audited by WFTO (the World Fair Trade Organisation). We would love you to join us in our mission to tackle the climate crisis and create a fairer, more sustainable world. Get in touch or request an account here.
Our spectacle stand ASH36 has been a top seller for us for 15 years – you can't get better than that! No other product has sold for us so well for such a long time. And it's STILL selling well. But to help our artisans at a time when Covid is ravaging India – and because our dastardly competitors (not Fair Trade I should say) have copied our design and undercut us on price – we have decided to REDUCE OUR PRICE, from £3.33 to just £2.50, so you can sell it a full £2 less – for £5.99 instead of £7.99!! Have you read that properly?? Put your specs on and read it again… (and when you take them off… where's that spec stand that you could really do with??)
Take advantage of this great offer – you can't go wrong.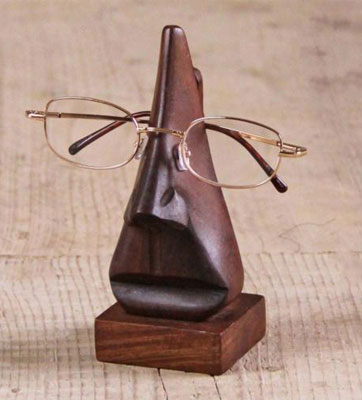 Some of our new products!
Sustainable - zero waste - plastic-free - we can make a difference!
How can we, as businesses, help to tackle the climate crisis? Well, as our main function in society is to sell products, the first thing we can do is to source those products which will lead to a more sustainable world. Shared Earth can help in this process by offering eco-friendly products which are sustainable, which avoid plastic, and which involve minimal energy, pollution and waste in their manufacture. Handmade and organic products are ideal, as are recycled products: we have the widest selection in Europe. We have rice husk cups and copper water bottles, to help reduce plastic use; bamboo socks, which use a third of the water it takes to grow cotton; jute bags, which last for ages; and solid shampoo, to avoid the use of plastic bottles.
We sell hundreds of recycled and upcycled products made from plastic bottles, paper, glass, tins, cotton rags, computer boards, even bicycle chains. Biodiversity is key to a sustainable world and we have increasing wildlife ranges, such as nesting boxes and insect houses, and products which engage children like 'save our bees' and 'save our elephants' playmats and mobiles. The greetings cards we sell either have compostable cello-bags, or avoid plastic altogether with peel-easy labels instead. We also avoid plastic as much as we can in our packaging; our aim is 'zero waste' to landfill.
As a fair trading company...

We try to ensure that the artisans who make our products get a fair wage, there is no exploitation (for instance of children), women are treated equally, and the community and those most in need of work benefit from our trade. Sustainability is also a key principle for fair traders.
Below are just a few producers we are proud to support:
Product Ethics